Trap Hi Hats Instrument for Logic Pro X
As most of us know, FL Studio is by far the easiest and most frequently used DAW for any who wants to learn how to Trap beats. The whole interface and tools that come with that workstation is conducive to programming that style of music and it works very well indeed. However, there are many of us who are diehard Logic Pro uses and have a serious interest in making trap style beats but at the same time have no intention whatsoever of switching to FL Studio. Now, one of the most challenging things therefore faced by those of us wanting bang out those Trap vibes is getting those syncopated Trap hi hats and snares that drill through the Trap beats as standard. Achieving this in FL is very easy indeed but it's not so straightforward in LPX. Don't get me wrong, Logic does have the capability of doing this and achieving those results, however there is no dedicated device built into the programme which will enable you to quickly trigger 16th triplets or 1/64 hat rolls on the fly. Well that is until now. And once you have watched this video you will see exactly how to create a dedicated instrument for triggering your Trap hi hats and snare roll all in one single software instrument instance.
How to Make Trap Music in Logic Pro X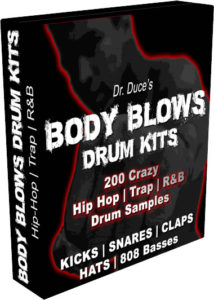 Now all you have to do whenever you're making a Trap beat in Logic Pro X or anything that needs those types of hat or snare rolls you can initiate this new instrument and all of your divisions (1/8T, 1/16, 1/32T, 1/64 etc) will be right there at your fingertips. Of course developing this new instrument is going to take you a few minutes but once you're done, you're done. You won't have to recreate it again. You will save it as a new instrument and whenever you start a new Logic project your instruments will be ready and raring to go. So take a few minutes to watch the video and follow the steps as I demonstrate and within a few minutes you will have your own dedicated Trap hi hats instrument. Also for the demonstration I have used sounds from my Body Blows Drum Kits sample pack which you can get right now for free by clicking this link right here. These great sounds are perfect for anyone wanting to build trap or urban style beats and needed some great kicks, snare, hats and 808 basses. They are all sampled at a very high resolution and are ready for your next project completely royalty free. So grab your copy right now.
Stay Connected
I have a whole lot more video tutorials on a range of related Logic Pro X features. You can also see another tut on Trap Beat making here. Also remember to check out my social media platforms and my beats store www.ducebeats.com . And as always do remember to Share, Subscribe, Like & leave a Comment on my YouTube channels. It's always great hearing from you and I really do enjoy interacting.