Beat Making in Logic Pro X
Welcome to my Beatmakers Breakdown Volume 1 tutorial series. This has been a long time coming and I'm really pleased that I finally managed to get some time to put together this short 3 part program to show you how to build an R&B track in a minimalist format whilst working in Logic Pro X. I'm really pleased with the feedback on the tutorials so far. These have been really positive and I do hope that as you go through each episode you too will find out something useful that will help you in your own music production process.  Now even if you are not a Pro X user but maybe you are on an older version such as Logic Studio 9 or maybe version 8, many of the principles  cover here will still apply to your beat making process. However I think this will be a great advert which shows off some of the powerful tools now incorporated into the latest version of this fantastic DAW. And maybe it will encourage you to take the plunge and go for that upgrades.
Beat Making Decisions
The video tutorial covers a range of things in progression starting with your decision making decision making process prior to you commencing your composition. I pose the questions that are important when you are planning on creating a track for your target audience. Questions such as:
What tempo should I be working at?
What about the genre?
Actually, who exactly is my audience and what is their age?

Now these are just some of the basics that you need to think about when you are planning your production, as making the right choices here will most certainly help you further along the way and reduce some of the frustration that you may well in counter.
Logic Chord Trigger & Arpeggiator Plugins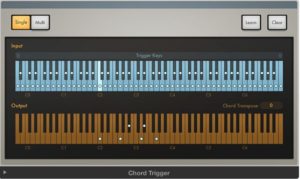 Some of the other areas I cover in the tutorials are to do with the use of Logic Pro X key commands and how they help you speed up your process. I also go over the use of very powerful tools such as the Chord Trigger module which can be plugged into any Software Instrument track. If you've never used as a Chord Trigger device before then you must what this video as you will find it to fully demonstrated here. I also provide information and demonstrations on use of the Logic Pro X Arpeggiator module which again can be used on software instruments to create awesome arpeggios and patterns for not only musical notes but also for sounds such as hi Hats and other percussive hits.
Tutorial Series
This actual series of videos takes you from the very beginning of the production journey all the way to completion and it is a step-by-step process. So if you are new to beat making in Logic Pro X hopefully this to be useful in developing your skills as a beat maker. As always I'm very grateful for your comments and feedback so please remember to Like, Comment and Subscribe to my channel as this is a great indicator as to how effective my tutorials are. As the title indicates this is Volume 1 of the Beatmakers Breakdown series and I'll be adding more titles over the next few weeks so make sure you keep yourself locked in and I will send you an alert if you would like that.
Peace!